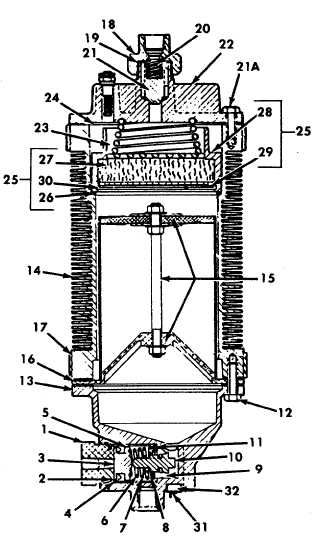 TM5-4210-229-14&P
5-21.  AIR DRYER REPAIR (Continued).
q.
Position  filter  assembly  into  body  (14)  with  large
end  down.    The  filter  must  set  on  packing  ring
(26).
r.
Install  heavy  spring  (23)  with  larger  diameter  coil
against top of filter assembly.
s.
Position new gasket (24) on body.
t.
Position  top  cap  (22)  and  spring  (39)  so  that  the
small  diameter  coil  on  spring  fits  groove  in  top
cap.
u.
Compress spring (39) and install four 3/8 inch cap
screws  (21)  into  body  (14).    Each  of  these  four
screws should be engaged at least three full turns
before   load   on   cap   is   removed.      Cap   screws
should be equally spaced.  Then thread remaining
screws into place.
v.
Tighten   all   top   cap   bolts   (21)   alternately   and
evenly to 15 ft-lb (20.4 N.m).
w.
Position new check valve spindle (2 1) in top cap
(22) with tapered end down.
x.
Install spring (20) in check valve spindle (21).
y.
Position new copper gaskets (1 9) in nut (18) and
rub a small quantity of grease (Appendix D, Item
21)   on   the   gaskets   to   help   them   keep   their
position in the top nut (18).
z.
Thread nut (18) on top cap (22) and torque to 60
ft-lb  (81  N.m).    Top  nut  (18)  is  not  included  in
check valve replacement kit.
aa.  Install new gaskets (16) and (17).
bb.  Align   bolt   holes   and   position   assembly   against
bottom gasket surface of body (14).
cc.   Insert eight cap screws (12) to attach bottom cap
(13)   to   body   (14)   and   deflector   assembly   (15).
Tighten  alternately  and  evenly  to  15  ft-lb   (20.3
N.m).
5-53