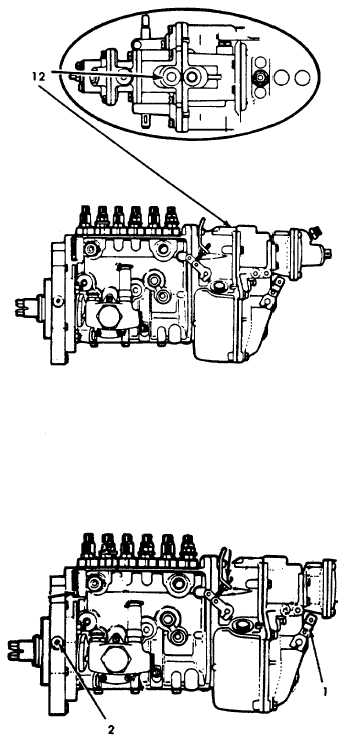 TM5-4210-229-14&P
4-76.  FUEL INJECTION PUMP REPLACEMENT (Continued).
k.
Install  fuel  supply,  fuel  return  and  high  pressure
injection lines with all clamps and brackets.  Clean
inside of each injection line with filtered air before
assembling to injection pump and nozzles. Torque
line nuts to 30 ft-lb (41 N.m).
l.
Remove all protective caps and install and connect
all  other  applicable  lines,  hoses  and  wires  to  the
pump.
m.   Add minimum of one pint of engine oil to governor
through the upper governor housing plug (12). Be-
cause injection plug is splash lubricated, engine oil
must be added to a replacement pump.
n.
Install   throttle   cable   or   linkage   to   outer   control
lever (1). Adjust throttle cable or linkage so tang in
outer control lever is in override position. At over-
ride lever tang will be approximately half way from
center of control lever to end of slot.
o.
After installation of fuel injection pump, prime fuel
system using these procedures.
(1)   Loosen all six high pressure fuel lines at nozzle
end.
(2)   Loosen hand priming pump handle.
(3)   Operate  priming  pump  until  pump  action  be-
comes solid (harder to pump).
(4)   Position   injection   pump   shutoff   lever   in   run
position with electric shutoff or mechanical ca-
ble.
(5)   Crank engine for fifteen seconds.
(6)   Operate  priming  pump  until  pump  action  be-
comes solid.  Tighten priming pump handle se-
curely.
(7)   Crank  engine  for  fifteen  seconds  and  observe
fuel/air  leakage  at  each  nozzle/fuel  pipe  con-
nector. When fuel flows from each nozzle con-
nector, tighten connector.
(8)   Start   engine   and   operate   until   engine   runs
smoothly.
4-90