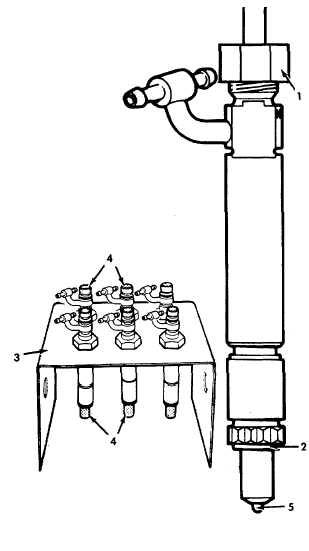 TM5-4210-229-14&P
4-77.  INJECTION NOZZLES REPLACEMENT
This task covers:
a.  Removal  
b.  Installation
INITIAL SET-UP
Tools
General Mechanics Tool Kit
Fuel Line Nut Wrenches
Materials/Parts
Injection Nozzles (6688840C91)
General
Safety
Instructions
Engine OFF.
Transmission in (N) neutral.
Parking brake set.
Batteries disconnected.
REMOVAL
Cleaning solvent (Appendix D, Item 54)
is both toxic and flammable.  Keep off
skin.  Use only in a well ventilated area
and  avoid  prolonged  breathing  of  va-
pors.  Keep away from open flames.
a.
Before    removing    nozzle    assemblies,    clean
exterior of each nozzle assembly and the sur-
rounding  area  with  solvent  (Appendix  D,  Item
54)  to  prevent  entry  of  dirt  into  engine  when
nozzle  assemblies  are  removed.    Also,  clean
all fuel line connections.
b.
Loosen  connector  nut  (1)  with  a  fuel  line  nut
wrench and remove fuel lines.
c.
Cap  open  ends  of  nozzles  and  fuel  injection
lines to prevent entry of dirt.
d.
With  all  fuel  lines  removed,  remove  injection
nozzles by turning counterclockwise.  Pull noz-
zle assembly with seal washer (2) from the en-
gine.    If  seal  washer  remains  in  nozzle  bore,
remove with a suitable tool and discard.
e.
Place  nozzle  assemblies  in  a  holding  rack  (3)
to prevent damage to tips as they are removed
from  the  heads.    The  fixture  is  stamped  with
numbers   corresponding   to   the   cylinder   num-
bering  of  the  engine.    Use  of  this  fixture  per-
mits replacing nozzles in their respective ports
in   the   cylinder   heads.      Assure   tips   and   line
connections are capped (4).
f.  With nozzle removed, cover the nozzle bore in the
cylinder head with protective caps.
4-91