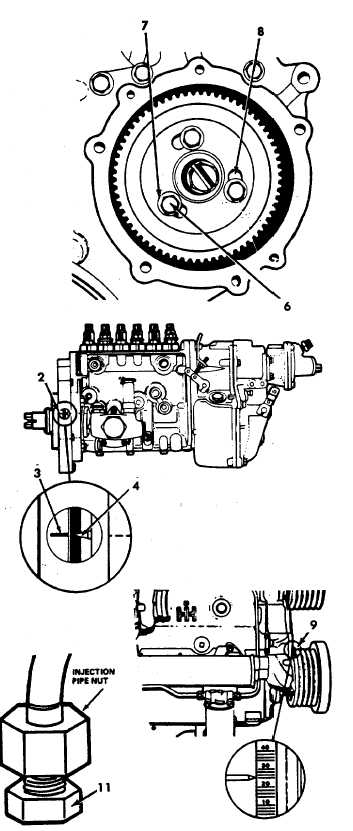 TM5-4210-229-14&P
4-76.  FUEL INJECTION PUMP REPLACEMENT (Continued).
j.
Remove  injection  pump  drive  gear  bolts  (6)  and
washers  (7)  from  injection  pump  hub  and  remove
pump from engine.
INSTALLATION
a.
Install injection pump drive gear loosely to injection
pump using drive gear bolts (5) and washers (7).
b.
Rotate pump clockwise (as viewed from drive gear
end)  until  timing  mark  (3)  on  pump  drive  hub  is
aligned with timing pointer (4) in adapter hole (2).
c.
Rotate loosened pump drive gear counterclockwise
(as viewed from drive gear end) to 3/4 of full extent
of drive gear bolt slots (8).
d.
Install final filter to injection pump hose and rubber
coated  clamp.  If  the  clamp  is  omitted,  the  hose
may rub on adjacent parts and leak.
e.
Install   final   filter   to   pump   housing   hose   to   inlet
connector on pump housing.
f.
Clean front cover plate and install new gasket and
injection pump assembly.
g.
With  injection  pump  in  position  on  engine,  secure
pump  adapter  to  front  plate  with  bolts,  nuts,  and
washers.   Torque   bolts   and   nuts   to   24   ft-lb   (33
N.m).
h.
Verify alignment of pump timing pointer (4) to hub
mark  (3)  through  mounting  adapter  opening  (2).
Rotate   pump   drive   hub   as   required   for   proper
alignment. Torque pump drive gear bolts to 35 ft-lb
(47 N.m). Observe engine to injection pump timing
on pulley (9).
i.
Install drive gear access cover (10) with applicable
capscrews and washers (5).
j.
Install lubricating oil line to injection pump.
CAUTION
Injection  pump  delivery  valve  holder  (11)
must   be   held   with   a   wrench   to   prevent
movement  when  high  pressure  piping  is
being installed.
4-89