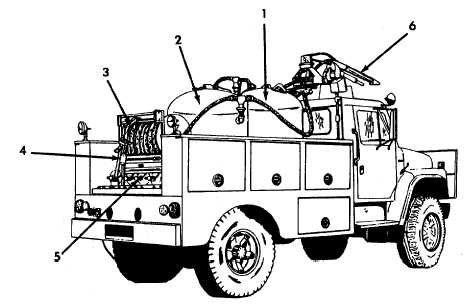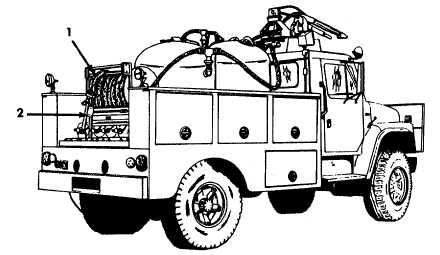 TM5-4210-229-14&P
1-9.  LOCATION AND DESCRIPTION OF MAJOR COMPONENTS (Continued).
(5)  Twin Agent System.

 

The firefighting system consists of a remote controlled twinned agent turret, dry chemi-
cal and AFFF pressure vessels, hose reel, remote  handline, nitrogen cylinders and piping and controls for
discharging, filling, draining and operating the firefighting system.
FIGURE 1-6.  TWIN AGENT SYSTEM
(6)  Hose Reel.

 

One hose reel is mounted on the twin agent at the rear of the fire body.  One 100-foot (30.48 m)
length of non-collapsible twin hose is installed on the hose reel.  A twinned handline nozzle with a pistol grip is
provided with the hose.  An electric motor rewinds the hose.  A manual crank is provided in case of motor fail-
ure.
FIGURE 1-7.  HOSE REEL
1-7
1.  Dry Chemical Tank
2.  Foam Tank
3.  Hose Reel
4.  Remote Handline
5.  Nitrogen Cylinders
6.  Twin Agent Turret
1.  Hose

Reel
2.  

Twinned Handline Nozzle