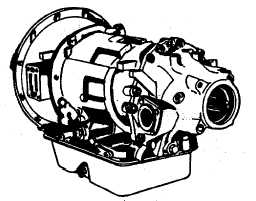 TM5-4210-229-14&P
1-9.  LOCATION AND DESCRIPTION OF MAJOR COMPONENTS (Continued).
(7)   Engine.   The engine is a 6 cylinder, in-line, valve-in-head, 4 cycle diesel engine, rated at 210 horsepower at
2,600 rpm.  The engine is equipped with a turbocharger, oil cooler, full flow oil filter, fuel oil filters, air cleaner,
air compressor, fan, emission control system, starting motor, and an exhaust system.
FIGURE 1-8.  ENGINE
(8)  Transmission

.    The  transmission  provides  four  forward  speeds  and  one  reverse.    Gear  shifting  is  done  auto-
matically.  The transmission also provides a transfer case which is located behind the transmission and allows
drive  torque  to  be  transmitted  in  a  proportional  split  to  both  the  front  and  rear  axles,  resulting  in  four  wheel
drive.  The shift control lever for the transfer case is floor mounted in the
FIGURE 1-9.  TRANSMISSION
1-8