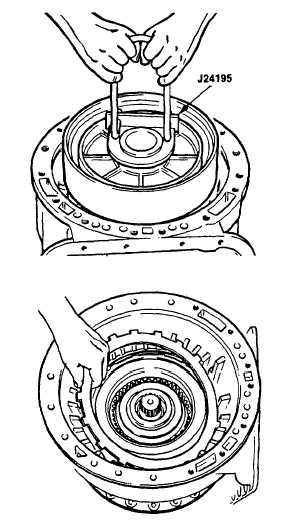 TM 5-4210-220-34
3-7.
TRANSMISSION-Continued
(12)
Before  installing  the  seal  ring,  the  end  clearance  must  be  checked  to  ensure  that  the  seal  ring  has  not
been expanded.
(13)
Remove the seal ring from its sealed package.  Place it in its operational position Inside the bore that it will
be sealing.
(14)
Using a feeler gage, check the end clearance of the seal ring.  The end clearance must not be less than
0.010 in. (0.25 mm).
(15)
If the end clearance is less than 0.10 in. (0.25 mm), bake the seal ring in an oven at 200-300 deg.  F (93-
149 deg.  C) for 24 hours or get a new seal ring.  Recheck end clearance.
(16)
Pack the seal ring and its groove with a liberal amount of petroleum jelly (item 21, Appendix B).
(17)
Roll  up  the  seal  ring  to  about  half  its  free  diameter  and  hold  it  that  way  for  about  10  seconds.    Being
careful  not  to  spread  the  seal  ring  more  than  necessary,  slide  it  onto  the  hub.    Place  one  end  of  the
seal  ring  into  the  groove  and  gradually
work the seal into the groove.
(18)
Attach  lifting  bracket  J24195  and  install
the  center  support  assembly.    Aline  the
tapped hole in the support to the hole in
the transmission housing.
(19)
Install the special 3/8-16 X 3 in. bolt and
plain  washer,  fingertight.    Remove  the
lifting bracket.
NOTE
It   may   be   necessary   to   compress   the   center
support to install the selective snap ring.
(20)
Install the selective snap ring that retains
the  center  support.    Be  sure  the  gap  of
the    snap    ring    is    at    the    top    of    the
transmission housing.
am.
Installation Third And Fourth Clutch
(1)
When  installing  the  third  clutch  plates,
the   external-tanged   clutch   plates   must
have a definite tang-to-slot relation.  The
tangs must be  installed  into  the  shorter,
narrower slots.
(2)
Install  ten  third-clutch  plates,  beginning
with   a   thick   external-tanged   plate   and
alternately installing  five  external-tanged
plates and five internal-splined plates.
3-76