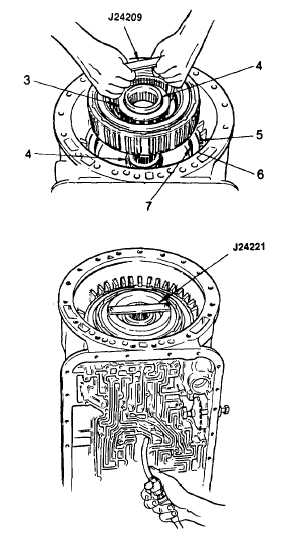 TM 5-4210-220-34
3-7.
TRANSMISSION - Continued
CAUTION
Be sure the clutch plate next to the piston is a thick plate.
(3)    Install backplate and white color coded snap ring.  Be sure the gap of the snap ring is at the top of the
transmission housing.
(4)    Check the third clutch clearance by inserting gage J24193 between the snap ring and the backplate of
the third clutch.  The clearance should be 0.060 1.120 in. (1.52 3.05 mm).  Any dimension between 0.060
0.120 in. (1.52 3.05  mm)  is  satisfactory.    Replace  worn  plates  with  new  plates  to  establish  the  desired
clearance.  When the assembly is satisfactory, continue assembly.
(5)    Prior to the installation of the fourth-clutch assembly, be sure the bearing races at both the front and back
are in place.
(6)    Check  the  seal  rings,  bearing,  and  race  are  in  place  on  the  center  support.    Ensure  the  inner  lube
direction lip of the race on the center support is 0.233 In. (5.9 mm).
NOTE
Do not remove the support ring from the fourth-
clutch housing.
(7)
Place    lifting    bracket    J24209    under    the
spring
retainer
of
the
fourth-clutch
assembly.    Aline  the  internal-splines  of  the
third-clutch plates and the sun gear shaft to
the     fourth-clutch     housing.          Install     the
housing.
(8)
Be sure the bearing race at the top (front) of
the clutch is in place.  If not, lubricate it with
petroleum  jelly  (item  21,  Appendix  B)  and
install.
an.
Installation Of Forward Clutch Assembly
(1)
Prior    to    installation    of    the    forward
clutch    assembly,    make    sure    the    thrust
bearing race and thrust  bearing  have  been
installed at the rear of the clutch assembly.
The    other    bearing    race    was    previously
installed in fourth clutch assembly.
(2)
Install
alinement
fixture
J24221.
Engage the fourth-clutch plates by applying
air  pressure  to  the  fourth-clutch  piston.    If
all  plates  do  not  engage  tool  J24221,  the
fixture will rise slightly when air pressure is
applied.
3-77