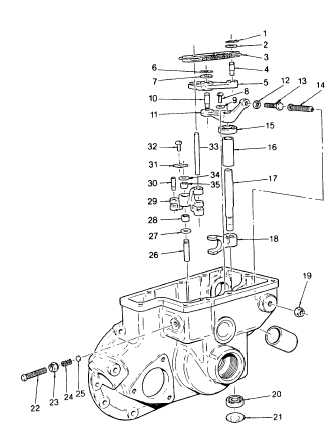 TM 5-4210-220-34
2-19.
ENGINE - Continued
(24)  Clamp the splined end of the shaft in the soft jaws of a vise and tighten the bearing bolt (3) to 19 it lb (26
Nm).
(25)  Bend the tang of the lockwasher (4) against the head of the bolt (3).
(26)  Place  a  new  gasket  (2)  into  the  housing.    Coat  the  threads  of  plug  (1)  with  pipe  sealant  (item  22,
Appendix B) and tighten plug to 45 ft lb (61 Nm).
(27)  Rotate the governor weight assembly to check there is no bind.  If it does bind, remove the housing plug
and be sure the weight shaft bearing (5) is fully seated in the governor housing.
(28)  Install governor on engine as detailed in INSTALLATION preceding.
e.
Governor Linkage And Operating Shaft Repair
NOTE
Governor must be removed from engine
to carry out repair.
(1)
Remove  the  governor  from  engine  as
detailed in REMOVAL preceding.
(2)
Remove    governor    weight    shaft    as
detailed    in    Governor    Weights    And
Bearing Repair preceding.
(3)
Remove   the   spring   retainer   (1)   and
plain    washer    (2)    and    remove    the
connecting link (3).
(4)
Remove   the   spring   retainer   (6)   and
plain
washers
(7)
and
remove
differential lever (5).
(5)
Remove   starting   aid   screw   (14)   and
locknut (19).
(6)
Remove the gap adjusting screw (13)
and nut (12).
2-259