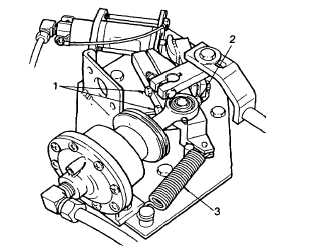 TM 5-4210-220-34
2-19.
ENGINE - Continued
(5)
Be sure that 'when electrical connection is made, air is exhausted from the solenoid and the plunger retracts.
(6)
Be sure that when 12-Vdc supply is removed, the plunger extends.  Replace whole assembly if plunger fails.
See REPLACEMENT following.
(7)
Reconnect electrical supply to place solenoid in engine run position, cylinder retracted.
(8)
Install arm (2) and aline it with the plunger ensuring it rests against the plunger.  Tighten screw (1) firmly.
(9)
Disconnect electrical supply, and check all fuel injectors are in the no-fuel position (injector control rack fully
withdrawn).
(10)
Adjust  arm  (2)  as  required.    The  Injector  racks  must  be  fully  withdrawn  and  checked  to  go  to  that  position
whenever the engine ignition is set to OFF.
b.
Foot Throttle Chamber Adjustment
NOTE
Engine must be shutdown.
Exhaust  valve  clearance,  injector  timing,  mechanical  governor  and  injector  control  racks  must  be  set  before
adjusting the throttle.
(1)
Ensure air tanks are pressurized.  If no air,
pressurize   using   shop   connection   on   left
side of pump body.  Check all air tanks are
at 100 psi (690 kPa).
(2)
Check  screws  (1)  and  nuts  (2)  on  throttle
arm are loose.
(3)
Press and release foot throttle in cab a few
times    and    ensure    throttle    chamber    rod
moves
freely.
Check
spring
(3)
is
connected  and  pulls  throttle  arm  promptly
back when throttle pedal is released.
(4)
With engine shut down, release foot throttle
in cab.
(5)
Tighten clamp screws (1) and nuts (2).
(6)
Depress foot throttle up and down a few times to check operation of the foot throttle and the governor speed
shaft.
(7)
With the foot throttle depressed, and the rocker covers removed, see para.  2-19.3, check that fuel injectors
are in the full-fuel position (injector control rack fully in).
2-241