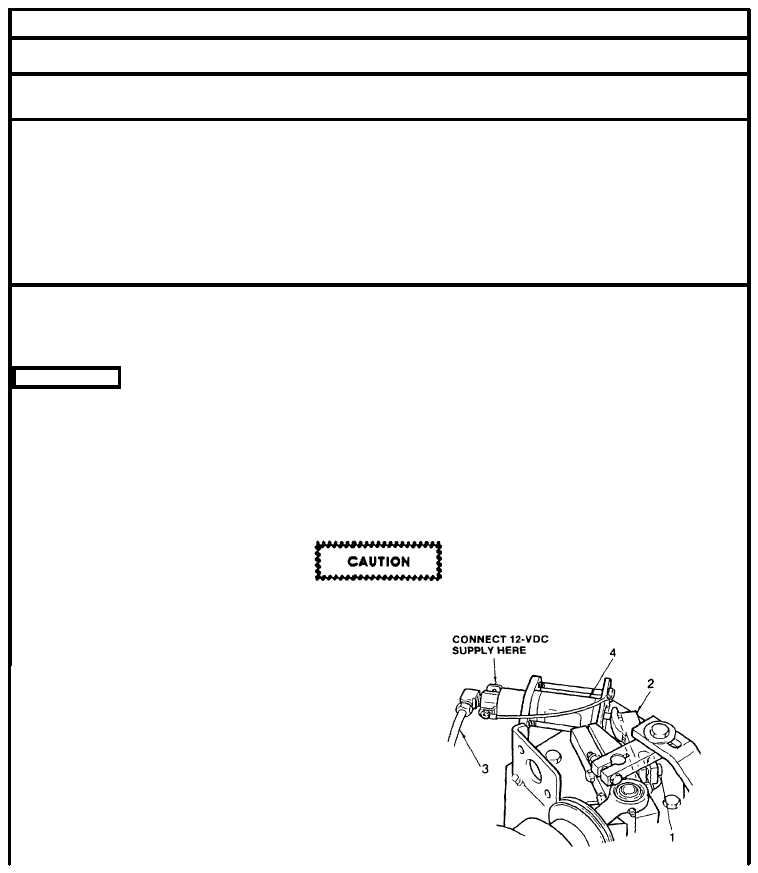 TM 5-4210-220-34
2-19.
ENGINE - Continued
2-19.12
Throttle, Fuel Shutdown, And Fire Pump Governor.
This task covers
a.
Adjustment
b.
Replacement
TOOLS
MATERIALS/PARTS
Tool Kit, General Mechanic, Automotive,
22, Appendix B Pipe Sealant
NSN 5180-00-177-7033
117907 Throttle Cylinder
1030-39540-01 Fuel Shutdown
EQUIPMENT CONDITION
101812 Fire Pump Governor
Main Engine Shutdown (see TM 5-4210-220-12)
5149510 Rocker Cover Gasket
APU Shutdown (see TM 5-4210-220-12)
Batteries Disconnected (see TM 5-4210-220-12)
PERSONNEL REQUIRED - 2
LH Engine Compartment Cover Removed
(see TM 5-4210-220-12)
NOTE
The following instructions may be used to install the above controls on a new engine or to replace components on a
used engine.
ADJUSTMENT
a.
Fuel Shutdown Adjustment
NOTE
Engine must be shutdown and both rocker covers removed, (see para.  2-19.3).
Exhaust  valve  clearance,  injector  timing,  mechanical  governor,  and  Injector  control  racks  must  be  set  before
adjusting the stop control.
This instruction must be carried out every time the engine is repaired.  This one system is used to assure a positive
engine shutdown.
(1)
Ensure air tanks are pressurized.  If no air,
pressurize   using   shop   connection   on   left
side of pump body.  Check all air tanks are
at 100 psi (690 kPa).
(2)
Loosen   screw   (1)   and   remove   operating
arm (2) from governor shaft.
(3)
Check  air  line  (3)  is  connected  to  solenoid
(4).
(4)
Connect     a     temporary     12-Vdc     electrical
supply to solenoid (4).
2-240