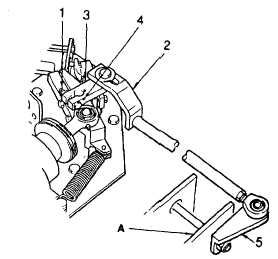 TM 5-4210-220-34
2-19.
ENGINE - Continued
2-19.12
Throttle, Fuel Shutdown, And Fire Pump Governor - Continued
c.
Pump Governor Adjustment.
NOTE
Mechanical Governor, fuel shutdown and foot throttle chamber must be adjusted and the engine idle and maximum
rpm must be set prior to carrying out pump governor adjust.
(1)
Be  sure  pump  governor  has  been  installed  as  in  REPLACEMENT  following.    This  procedure  ensures  the
assembly itself is adjusted correctly.
(2)
With
engine
shutdown,
rotate
pump
governor arm (3) counterclockwise until the
pivot bolt is against the outer end of the slot
of the pump governor link (4).
(3)
Be sure bracket (5) on pump governor shaft
is held to the left near bracket (A) and then
tighten locking nut and bolt (1 and 2) on the
pump governor arm.
(4)
Start   main   engine   and   start   fire   pump   in
structural mode.  Be sure pump is flooded.
Using   hand   throttle   on   structural   control
panel   adjust   engine   speed   so   that   pump
pressure  increases  to  150  psi  (1034  kPa).
Be  sure  pump  pressure  is  stable.    Open
various
discharges
and
check
pump
pressure restabilizes to this pressure.  Shut
pump down.
(5)
Set pump to CFR mode and start pump.  Switch on governor and check pump pressure increase to 250 psi
(1720  kPa).    If  pressure  exceeds  280  psi  (1930  kPa)  switch  off  pump  governor  immediately.    Reduce
pressure as detailed in following steps.
(6)
With  pump  pressure  stabilized,  adjust  pressure  to  250  psi  (1720  kPa)  using  air  control  valve  mounted  on
service brake plate.
(7)
Open bumper turret and roof turret in turn and check pressure restabilizes to 250 psi (1720 kPa) after each
operation.
REPLACEMENT
a.
Fuel Shutdown Replacement
NOTE
If a new engine is being prepared for installation carry out all instructions.
If the fuel shutdown is being removed and installed on engine(s) already in service start at instruction 3.
2-242