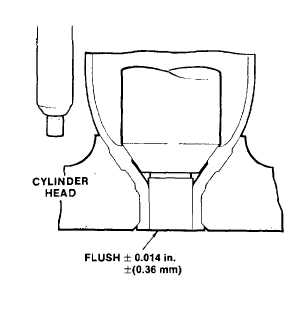 TM 5-4210-220-34
2-19.
ENGINE - Continued
2-19.5
Injectors - Continued
(22)  Make a trial cut by turning the reamer steadily without applying downward force.  Remove the reamer.  Blow
out any chips and look at the bevel seat.  Note which portion of the seat has been cut (shiny).
(23)  Lower    the    reamer    again    and    resume    cutting.
Proceed  in  2  turn  operations,  removing  chips  each
time.    When  the  gage  tool  is  flush  to  -0.014   in.
(0.36 mm) with the lower face of the cylinder head,
stop  cutting.    (For  checking,    repeat  steps  19  and
20 preceding).
WARNING
Dry
cleaning
solvent
P-D-680
(safety
or
Stoddard's    solvent)    is    potentially    dangerous.
Avoid    repeated    and    prolonged    breathing    of
vapors  and  skin  contact  with  the  liquid.    Do  not
use near open flame, arcing equipment or other
ignition   sources.      Always   wear   eye   protection
and protective  clothing.    The  flash  point  of  P-D-
680 is 100 to 138 deg.  F (30 to 59 deg.  C).
Death or serious injury could occur if compressed air is directed against the skin.  Do not use compressed air for cleaning
or drying unless the pressure is/has been reduced to 30 psi (2.11 kg/cm2) or less.  When working with compressed air,
always use chip guards eye protection and other personal protective equipment.  (24) Wash the interior of the injector tube
with dry cleaning solvent (item 10, Appendix B) and dry with compressed air.
2-192 (2-193 Blank)