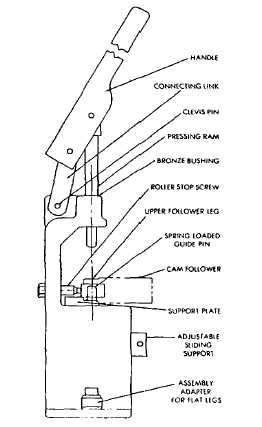 TM 5-4210-220-34
2-19.
ENGINE - Continued
(16)  Aline the fuel pipes and connect them to the injectors and fuel connectors.  Tighten the fuel pipe nuts to
12 ft lb (16 Nm) torque using socket J8932-01.
NOTE
Do  not  bend  the  fuel  pipes  and  do  not  exceed  the  specified  torque.    Excessive  tightening  will  twist  or
fracture the flared ends of the fuel pipes and result in leaks.  Lubricating oil diluted by fuel oil can cause
serious damage to the engine bearings.
(17)  Fill the cooling system if It was drained.
(18)  Adjust the exhaust valve clearance see para.  2-19.7 and time the injectors see para.  2-19.5.
(19)  Replace rocker covers see para.  2-19.3.
REPAIR
NOTE
Repair of all components except cam follower consists of replacement of failed components as detailed in
INSPECTION preceding.
Cam Follower Repair
CAUTION
Do not attempt to bore out the legs of a standard cam follower for an oversize pin.  Use tool J33421 for
cam follower roller replacement.
(1)
Pull  the  adjustable  sliding  support  out  against
its stop on tool J33421.
(2)
Place the cam follower with follower pin resting
on the spring loaded guide pin in the fixture.
(3)
Push the follower down  until the lower leg engages the
slot in the support plate.  This supports the roller which
in turn supports the upper follower leg.
(4)
Push the follower in  until  contact  is  made  with
the roller stop screw.  This should put the roller
pin in alinement with the pressing ram.
(5)
Lower the handle to  put  pressure  on  the  roller
pin.
(6)
Push   the   adjustable   sliding   support   in   until
resistance   is   felt.        This    causes    the    lower
follower leg to be supported.
2-178