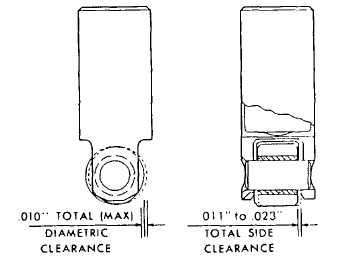 TM 5-4210-220-34'
2-19.
ENGINE - Continued
(7)
Press the pin from the cam follower.
WARNING
Dry  cleaning  solvent  P-D-680  (safety  or  Stoddard's  solvent)  is  potentially  dangerous.    Avoid  repeated  and
prolonged breathing of vapors and skin contact with the liquid.  Do not use near open flame, arcing equipment
or other ignition sources.  Always wear eye protection and protective clothing.  The flash point of P-D-680 is
100 to 138 deg.  F (30 to 59 deg.  C).
(8)
Before installing the new roller and pin, remove the preservative by washing the parts with dry cleaning
solvent (item 10, Appendix B).  Wipe dry Do not use fuel oil.  After washing the parts, lubricate the roller
and pin with engine oil (item 17, Appendix B).
(9)    Pull the adjustable sliding support out arid position the cam follower in the  fixture  (roller  in  place)  as  in
steps 2 thru 4 preceding.
(10)  When assembling the cam follower with flats on the outside of the legs, push adaptor J33421-3 onto the
pressing  ram  to  limit  depth  of  the  press  to  the  correct  dimension.    When  pressing  the  pin  into  the
follower with rounded legs, depth of the press is determined by the operator. Adapter J33421-3 has a
spring-loaded plunger in the setscrew and does not normally require any adjustment.
(11)  Aline the pin over the follower leg, lower handle and place pressure on the pin.
(12)  To support the lower follower leg, push the adjustable sliding support in until resistance is felt.
(13)  Press the pin into place.
(14)  Remove   the   cam   follower   from   the
fixture  and  check  the  side  clearance.
The  clearance  must  be  0011  -  0.023
in.  (0.28 - 0.58 mm).
(15)  Install    cam    follower    as    detailed    in
INSTALLATION preceding.
2-179