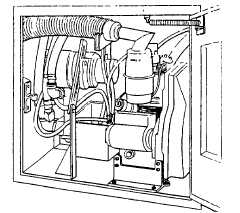 TM 5-4210-220-12
Table 2-1.  Operator Preventive Maintenance checks and Services (PMCS) - Continued
A - After Mission
D - Daily Checks
W - Weekly
Interval
Item
ITEM TO BE INSPECTED/Procedure
Equipment is not
No.
A
D
W
Ready/Available If
20
HOSE INSPECTION
·
Pull out hose reel hose to its full length.  Inspect
- Hose missing or
hose for kinks, tears or cuts.
severely cut or kinked.
Report any failed hose to Organizational Maintenance
for repair.
21
HOSE CONNECTOR INSPECTION
·
With hose reel hose pulled out from reel, inspect
- Connector leaking or
each connector for damage/looseness.  Tighten all
badly damaged.
connectors as required.  Report any damage to
Organizational Maintenance for repair.
22
APU INSPECT
·
Open APU compartment door and check for oil leaks
and dirty engine cooling fins.  Clean up as required.
Check all hoses for water/fuel leaks.
Check for corrosion/tightness of all electrical
connections.
Check alternator drive belt tension.  Belt movement
should be less than 1/2 in (1 cm) midway between
he pulleys.
Report any oil, fuel, or water leak, corroded electrical
connection or loose belt to Organizational
Maintenance for repair.
2-29