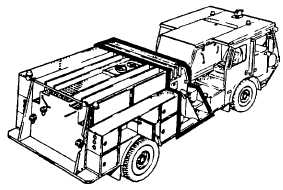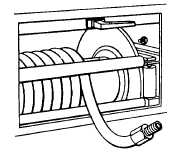 TM 5-4210-220-12
Table 2-1.  Operator Preventive Maintenance checks and Services (PMCS) - Continued
A - After Mission
D - Daily Checks
W - Weekly
Interval
Item
ITEM TO BE INSPECTED/Procedure
Equipment is not
No.
A
D
W
Ready/Available If
18
PUMP BODY
·
·
Check pump body for dents and scratches.  Clean
paint work as required.  Be sure all nuts and bolts
are tight.
Ensure all three access panels are securely latched.
Check steps between hose body and pump body are
latched.
Ensure hoses are correctly stowed in the cross-lay
hose beds.  Confirm rollers move freely.
19
HOSE REEL
·
·
Pull out about 5 feet of hose.  Operate air purge
valve and ensure air bleeds into the hose.  If water
comes out of hose nozzle leave valve open until
water stops.  Operate water drain valve.  Leave open
till water drains out of hose reel supply line.  Reclose
valve.
Press rewind pushbutton and check hose rewinds.
Confirm all rollers move freely.
Change 5     2-28.1/(2-28.2 blank)