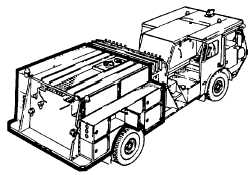 TM 5-4210-220-12
Table 2-1.  Operator Preventive Maintenance checks and Services (PMCS) - Continued
A - After Mission
D - Daily Checks
W - Weekly
Interval
Item
ITEM TO BE INSPECTED/Procedure
Equipment is not
No.
A
D
W
Ready/Available If
23
APU TEST
·
Ensure winterization valves on main engine are open.
Start APU as detailed in para. 2-11.
Let engine run for 15 minutes.  Check it runs
smoothly and cleanly Exhaust from hose reel area of
truck should be clean.  Report any deficiencies to
Organizational Maintenance.
24
HOSE BODY
·
·
Check hose body for dents and scratches.  Clean paint
- Equipment securing
work as required.  Be sure all fasteners are tight.
hardware broken or
Ensure equipment is correctly stowed on the hose
severely damaged.
bed and ladder deck.  Ensure mud flaps are not torn
and are fastened securely.
25
COMPARTMENTS
·
·
Check each compartment for the following:
a.  Hatch holder holds door in open position (gas
cylinders are installed on upper doors).
b.  Lamp illuminates when door is opened (cab
COMPT switch must be set to ON).
c.  Door latches easily and does not open when tugged.
- Door will not latch.
d.  Door seal is intact and securely in place securely.
e.  Equipment is stowed correctly and fixtures are in
- Heavy equipment
place.
stowing fixtures missing.
or loose
f.  In lower compartments only, be sure drain valves
are in place.
Report any deficiencies to Organizational Maintenance.
2-30