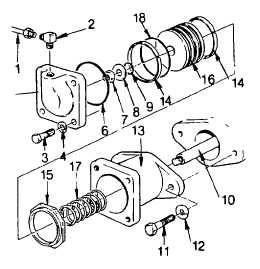 TM 5-4210-220-12
4-30 REAR AXLE - Continued
4-30.5 Air Shift Units.
This task covers
a.
Replacement
b.
Repair
TOOLS
MATERIALS/PARTS
Shop Equipment, Automotive
9, Appendix E Dexron
Maintenance and Repair,
21, Appendix E Petroleum Jelly
NSN 4910-00-754-0705
22, Appendix E Pipe Sealant
28, Appendix E Silicone Sealant
EQUIPMENT CONDITION
113581 Lock Up Shift Unit
Main Engine Shutdown (see para. 2-10)
73507 CTD Air Shift Unit
APU Shutdown (see para. 2-12)
119855 Shift Fork Seal
Batteries Disconnected (see para. 4-24.12)
All Wheels Blocked
All Air Tanks Drained
REPLACEMENT
a    4-Wheel Drive Air Shift Unit Replacement
NOTE
Parts for the air shift unit can be bought
separately or as a total unit.  The shift unit,
including the shift fork (10), is included in
the replacement unit.  If shift fork must be
replaced,  request  assistance  from  Direct
Support Level.
(1)
Remove  control  air  line  (1)  and  fitting  (2)
from shift unit cover (5).
(2)
Remove  capscrews  (3)  and  lockwasher  (4)
attaching  cover  (5)  Remove  cover  and  O-
ring (6).
(3)
Remove nut (7), flatwasher (8), and O-ring (9) from shift fork push rod (10).
(4)    Remove capscrew (11) and lock washer (12) attaching body (13) to power divider housing.  Remove
body (13) and piston (16) assembled.
(5)
Remove spring (17) from shift fork (10).
(6)
Clean old sealant from power divider mounting flange.
NOTE
If  air  shift  unit  is  repaired,  remove  piston  (16)  from  body  (13).    Remove  piston  stop  (15).
Discard  all  O-rings  and  felt  oilers.    Inspect  all  other  components  for  damage.    Replace  as
required.
(7)
Inspect new components for nicks, scratches, and other defects before starting installation.
4-576