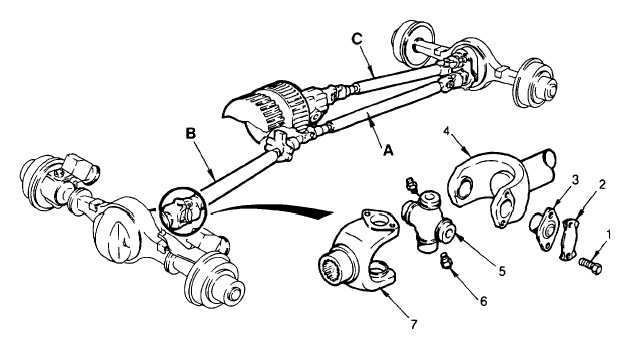 TM 5-4210-220-12
4-26 DRIVE LINES, POWER TRAIN - Continued
4-26.3  Drive Shafts.
This task covers
a.
Removal
b.
Inspection
c.
Installation
TOOLS
Shop Equipment, Automotive
Maintenance and Repair,
NSN 4910-00-754-0705
EQUIPMENT CONDITION
Main Engine Shutdown (see para. 2-10)
APU Shutdown (see para. 2-12)
Batteries Disconnected (see para. 4-24.12)
Wheels Blocked
Heat Shields Removed (see para. 4-11)
MATERIALS/PARTS
16, Appendix E Grease
20, Appendix E Penetrating Oil
230-323 Lockstrap
310592 Locknut
PERSONNEL REQUIRED - 2
NOTE
During removal and installation of the drive shafts it may be necessary to raise the front or
rear axle and rotate the yokes in order to access attaching hardware.
4-502