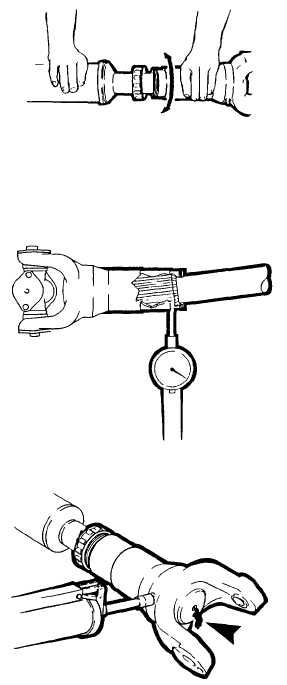 TM 5-4210-220-12
4-26.  DRIVE LINES, POWER TRAIN - Continued
WARNING
Death or serious injury could occur if
compressed air is directed against the
skin.  Do not use compressed air for
cleaning
or
drying
unless
the
pressure  is/has  been  reduced  to  30
psi   (2.11   kg/cm2)   or   less.      When
working  with  compressed  air  always
use  chip  guards,  eye  protection  and
other personal protective equipment.
(2)
After  washing,  dry  the  components  using
compressed air.
(3)
Inspect  splines  and  threads  for  damage
such    as    wear,    pitting,    flaking,    rolling,
peening and fatigue cracks.
(4)
Install  slip  yoke  assembly  on  to  splined
stub shaft.
(5)
Using   an   opposing   to   and   fro   twisting
motion    visually    check    the    movement
between the two shafts.  If play seems to
be     excessive,     use     a     dial     gauge     to
measure  the  movement.    The  movement
must not exceed 0.007 in. (0.18 mm).
(6)
Inspect dust cap.  If it is severely bent, or
threads are stripped, replace it.
(7)
Qualify cross hole alinement, see para. 4-
26.1.
(8)
Evidence of damage of any kind is cause
for    rejection.        Replace    component    or
assembly as required.
ASSEMBLY
.
(1)
Install   splined   stub   shaft   into   slip   yoke
assembly.
(2)
Ensure  that  both  yokes  are  in  matched
position.
(3)
Using pliers, Install and tighten dust cap.
(4)
Once  assembled,  lubricate  the  slip  joint
assembly until grease (item 16, Appendix
E) is expelled from pressure relief hole in
welch   plug.      Cover   pressure   relief   hole
and     continue     lubricating     until     grease
appears at slip yoke dust cap (1).
4-501