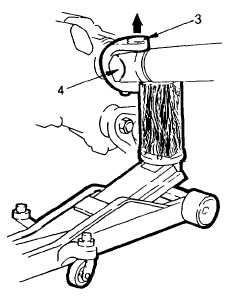 TM 5-4210-220-12
4-26.  DRIVE LINES, POWER TRAIN - Continued
REMOVAL
NOTE
Disconnect  rear  drive  shafts  and  differential  end  of  front  drive  shaft  with  the  universal  joint
crosses attached to shaft.  Disconnect front drive shaft with U-joint cross to rear drive shaft
remaining attached to rear shaft.
a.
Drive Shaft Removal.
(1)
If  the  drive  shaft  universal  joint  locking  screws  and  straps  are  corroded,  apply  penetrating  oil  (item  20,
Appendix E) to ease disassembly.
(2)
Mark all yokes and slip joints before removal.  This will ensure alinement of components during installation.
(3)
Using a hammer and chisel bend down the ears on the two lockstraps (2) attached to the yoke opposite the
drive shaft to be removed (e g (7) in illustration).
(4)
Remove capscrews (1) and lockstraps (2).
CAUTION
Do     not     use     jack     method     to
disassemble U-joint between front
and  rear  drive  as  this  may  cause
damage    to    the    center    bearing.
Unless special puller (Kent Moore
J36138)   is   available,   disconnect
front    and    rear    drive    shafts    at
differentials    and    detach    center
bearing from frame.  Disassemble
drive shafts on floor where shafts,
yokes,  and  center  bearing  can  be
supported.
(5)
Turn  the  yoke  until  the  bearing  plates  (3)
are  vertically  alined.    If  necessary,  raise
the  front  or  rear  axle  as  detailed  in  para.
4-9.
(6)
Using  a  floor  jack  and  a  block  of  wood,
jack the wooden block up until it contacts
the drive shaft end yoke (4) as shown.
(7)
Continue   to   jack   the   block   up   until   it
forces  the  upper  bearing  plate  (3)  out  of
the yoke.
(8)
Once  the  upper  bearing  plate  has  been
removed,   lower   the   jack   and   rotate   the
shaft   a   half   turn.      Remove   the   second
bearing plate similar to steps 5, 6, and 7.
4-503