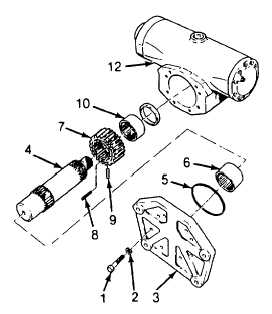 TM 5-4210-220-12
4-25.  STEERING SYSTEM - Continued
4-25.6  Power Steering Gear - Continued
b.
Output Shaft Repair - Continued
(7)
Remove quad ring (11) and discard.
(8)
Remove  roll  pin  (8)  and  drill  out  pin  (9).
Press gear (7) off shaft (4).
NOTE
If  pin  (9)  cannot  be  drilled  out,  it
can  be  sheared  off  using  a  press
capable  of  providing  approximately
10  tons  of  pressure.    After  pin  is
sheared   and   gear   and   shaft   are
taken   apart,   drill   remaining   pin
half  out  of  shaft  and  drive  other
half out of gear.
(9)
Clean   inside   of   gear   housing   using   a
clean,   dry,   lint-free   cloth.      Do   not   use
liquid cleaning agents.
WARNING
Dry  cleaning  solvent  P-D-680  (safety  or  Stoddard's  solvent)  is  potentially  dangerous.   Avoid
repeated and prolonged breathing of vapors and skin contact with the liquid.  Do not use near
open  flame,  arcing  equipment  or  other  ignition  sources.    Always  wear  eye  protection  and
protective clothing.  The flash point of P-D-680 is 100 to 138 deg. F (30 to 59 deg. C).
Death or serious injury could occur if compressed air is directed against the skin.  Do not use
compressed air for cleaning or drying unless the pressure is/has been reduced to 30 psi (2.11
kg/cm2) or less.  When working with compressed air, always use chip guards, eye protection,
and other personal protective equipment.
(10)
Clean  all  reuseable  parts  removed  from  steering  gear  using  cleaning  solvent  (item  10,  Appendix  E)  and
blow dry using compressed air.
(11)
Inspect shaft (4) and pinion gear (7).  Replace either part if damaged.
(12)
Coat new and reuseable parts with lubricating oil (item 17, Appendix E) in preparation for assembly.
(13)
Press  new  bearings  (6  and  10)  in  place  in  cover  (3)  and  housing  (12).    Be  sure  bearings  are  flush  with
internal cover and housing surface (faces toward pinion gear).
(14)
Install new quad ring (11) in groove in housing (12).  The ring may appear to be too large but will fit.
(15)
Aline timing arrow on output shaft (4) with arrow on pinion gear (7) and press gear onto shaft.
(16)
Install retaining pin (9) and secure it using roll pin (8).
4-492