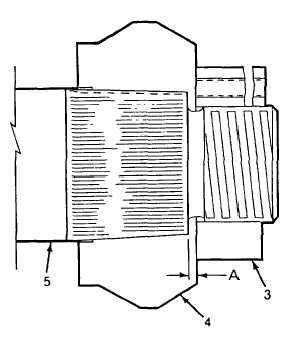 TM 5-4210-220-12
4-25 STEERING SYSTEM - Continued
WARNING
The  pitman  arm  can  work  loose
and    result    in    loss    of    vehicle
steering control unless the arm is
installed  and  secured  as  detailed
in steps 5 thru 8.
(5)
Install and tighten nut (3) to approximately
450 ft lb (610 Nm).
(6)
Remove   nut   (3).      Measure   distance   A
between  pitman  arm  and  shaft  shoulder
as  shown.    Distance  A  should  be  1/8  to
3/32 in. (3 to 4 mm).  If less than 1/8 in. (3
mm), replace output shaft as detailed in b.
following.
(7)
Install nut (3) and tighten to 675 ft lb (915
Nm).
(8)
Install  lockwasher  (2)  and  capscrew  (1).
Tighten capscrew to 15 ft lb (20 Nm).
b.
Output Shaft Repair.
NOTE
Steering gear removed from truck.
WARNING
To prevent a serious accident, do
not  weld  or  apply  excessive  heat
to   pitman   arm   or   output   shaft.
Welding   or   excessive   heat   may
lead    to    component    failure    and
loss of steering control.
(1)
Remove   pitman   arm   as   detailed   in   a
preceding.
(2)
Remove    screws    (1)    and    washers    (2)
attaching cover (3).
(3)
Using a soft hammer, tap on end of output shaft to loosen cover.
(4)
Carefully slide output shaft, pinion gear, and cover through housing.  Pull output shaft (4) out of cover (3)
and discard O-ring (5).
(5)
Inspect bearings (6 and 10) while these are still installed in gear housing (12) and cover (3).  The bearings
should remain installed unless damaged or defective.
(6)
If replacement of either bearing is required, use a suitable internal bearing puller to remove the defective
bearing.
4-491