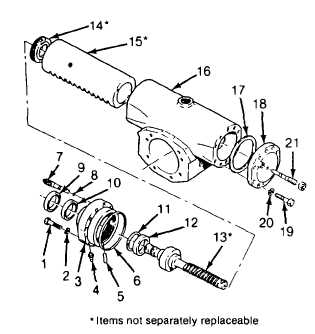 TM 5-4210-220-12
4-25 STEERING SYSTEM - Continued
(17)
Line up timing marks on pinion gear with timing mark on piston assembly in gear housing.  Install output
shaft and pinion gear in gear housing.
(18)
Install new O-ring (5) in groove in cover (3).
(19)
Install cover (3) on gear housing.  Be careful not be damage O-ring (5).  Use a soft hammer to fully seat
cover against housing.
(20)
Install screws (1) and lockwashers (2).  Tighten screws to 125 ft lb (170 Nm).
(21)
Install pitman arm to output shaft as detailed in a preceding.
c.
Input Shaft Repair.
NOTE
Steering gear removed from truck.
(1)
Remove pitman arm and output shaft, see
a and b preceding.
(2)
Remove both relief plungers (7 and 8).
(3)
Make reference marks on bearing cap (3),
cylinder  head  (18),  and  housing  (16)  so
that  steering  gear  can  be  reassembled  in
same configuration.
(4)
Remove  screws  and  washers  (1  and  2).
Turn  input  shaft  (13)  to  free  bearing  cap
from  housing  (16)  (5).    Support  bearing
cap when free of housing and continue to
turn shaft (13) until it is free of piston (15).
Discard O-ring (6).
(6)
Remove screws and washers (19 and 20).  Remove cylinder head (18) and discard seal ring (17).
(7)
Carefully slide piston (15) free of housing bore.
(8)
Using a 5/64 in. drill, drill pin (5) out of bearing cap (3) and retaining nut (14).
(9)
Using a spanner wrench, remove retaining nut (14) from bearing cap (3).
(10)
Press shaft and bearing (13) out of bearing cap.  Be careful not to damage shaft or bearing if these parts
are to be reused.
(11)
Remove seals (9, 10, and 12) from bearing cap and discard.  Retain back-up washer (11) for reuse with
new seals.
4-493