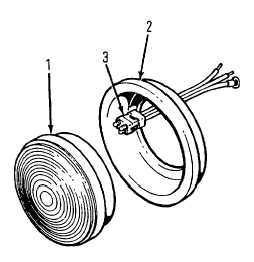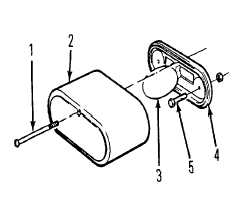 TM 5-4210-220-12
4-24.  ELECTRICAL SYSTEM - Continued
(6)
Install bulbs (3).
(7)
Install lens using screws (1), tighten securely.
b.
Signal, Brake, and Reversing Lamp Replacement
NOTE
No bulbs are installed in these lamps, they are "sealed beam" type units.
(1)
To replace front signal lamp, remove front bumper, see para. 4-10.1
(2)
To remove rear signal, brake, or reversing lamp, remove lamp protection plate from inside of hose body
compartment.
(3)
Unplug pigtail (3) from lamp being replaced.
(4)
Using a screwdriver under the lip of the rubber grommet (2), ease the grommet and lamp out of the panel.
(5)
Replace lamp (1) in rubber grommet (2).
(6)
Push lamp and grommet into hole in body work.  A light smear of petroleum jelly (item 21, Appendix E) on
the rubber will ease installation.
(7)
Install plug in rear of lamp.  Check lamp operates.
(8)
Replace front bumper or lamp protection plate as required.
c.
Licence Lamp Replacement.
(1)
For bulb or lens replacement, remove screw (1) and lens (2).
(2)
Replace bulb in holder, or replace lens as required.
(3)
Install lens (2) using screw (1), tighten securely.
(4)
For lamp replacement, unplug pigtail from wiring harness (in hose body compartment).
(5)
Remove screw (1) and lens (2).
(6)
Remove screw (4) and backing plate (5).  Carefully withdraw wire connection through hole in body.
4-439