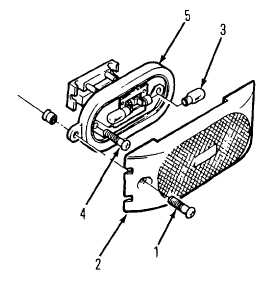 TM 5-4210-220-12
4-24 ELECTRICAL SYSTEM - Continued
4-24.8 Truck Lights.
This task covers
a.
Replacement
b.
Repair
TOOLS
Tool Kit, General Mechanic, Automotive,
NSN 5180-00177-7033
EQUIPMENT CONDITION
Main Engine Shutdown (see para. 2-10)
APU Shutdown (see para. 2-12)
Batteries Disconnected (see para. 4-24)
MATERIALS/PARTS
W1893 Bulb, Clearance Lamp
94092-3 Clearance Lamp Lens, Yellow
94093-3 Clearance Lamp Lens, Red
46643 Clearance Lamp, Yellow
46642 Clearance Lamp, Red
AG+7039 Rear Deck Light
GE4435 Sealed Beam Rear Deck Light
61031-3 Dome Lamp
90401 Lens, Dome Lamp
S93 Bulb, Dome Lamp
60121-3 Licence Lamp
19-2005-01 Lens, Licence Lamp
B-67 Bulb, Licence Lamp
52773 Indicating Lamp
62171 Reversing Lamp
52770 Brake Lamp
60191 Compartment Lamp
45821 Lamp Hood
77122 Emergency Lamp, Front
44661 Flashtube
92042 Lens, Red
77102 Emergency Lamp Rear
92032 Lens, Red
103540 Oscillating Light
H1600 Oscillating Light, Bulb
NOTE
For replacement of mirror marker lights and front spotlight, see para. 4-12.  For replacement of headlights, see
para. 4-24.9.
REPLACEMENT
a.
Clearance Lamp Replacement
(1)
For   bulb   or   lens   replacement,   remove
screws (1) and lens (2).
(2)
Replace  bulbs  in  holders  or  replace  lens
as required.  Install lens (2) using screws
(1).  Tighten securely.
(3)
For   lamp   replacement,   remove   screws
(1), lens (2), screws (4) and backing plate
(5).
(4)
Install   new   backing   plate   over   the   no-
splice wire holder, ensuring backing plate
spikes   break   the   wire   insulation   in   the
same position as previous plate.
(5)
Secure backing plate (5) with screws (4).
4-438