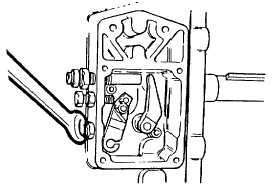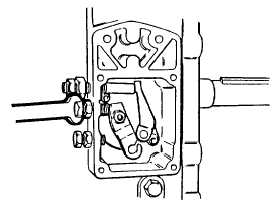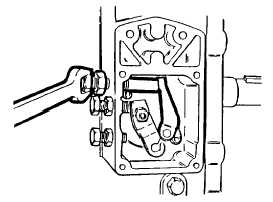 TM 5-4210-220-12
4-15.  AUXILIARY POWER UNIT - Continued
(8)
With no load, adjust minimum idle speed
to
1300
rpm
(Use
mechanical
tachometer).
(9)
With no load, adjust maximum idle speed
to 3780 rpm.
(10)
With  engine  running  at  full  load,  adjust
gap   between   lever   B   and   plunger   C   to
0.002 in. (0.05 mm).
(11)
If dynamometer is not available, adjust by
quick accelerations of engine.  If engine is
sluggish    and    makes    no    smoke,    turn
plunger   C   outwards.      If   engine   smokes
heavily, turn plunger C inwards.
(12)
If
on
dynamometer,
check
fuel
consumption.    Should  be  6.1  cu  in.  (100
ml) in 190-200 sec with engine running at
3600  rpm  delivering  6.5  hp  (4.78  kW)  (If
engine   has   been   completely   rebuilt,   do
not   carry   out   this   test   until   engine   has
operated  at  various  low  loads  for  at  least
10 hours).
(13)
When    adjustment    is    complete,    Install
engine on base as detailed in para. 4-15.1
ASSEMBLY.
(14)
Install APU in truck as detailed in para. 4-
15.1, INSTALLATION
4-191