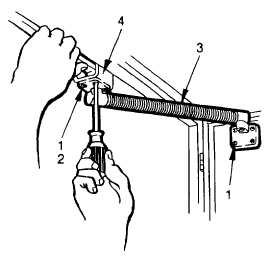 TM 5-4210-220-12
4-16.  HOSE BODY
4-16.1 Hatch Holder.
This task covers
a.
Removal
b.
Inspection
c.
Installation
TOOLS
Tool Kit, Master Mechanic,
NSN 5180-00-699-5273
EQUIPMENT CONDITION
Main Engine Shutdown (see para. 2-10)
MATERIALS/PARTS
0115-3 Hatch Holder
REMOVAL
(1)
Remove  the  four  capscrews  (1)  and  nuts
(2)  that  retain  the  hatch  holder  (3)  to  the
hatch holder stiffener (4).
(2)
Remove the four capscrews (1) that retain
the opposite end of the hatch holder (3) to
the compartment door.  These capscrews
fasten into insert fasteners
INSPECTION
(1)
Check hatch holder spring for any distortion or damage that may prevent the spring from locking.  Replace
as necessary.
(2)
Each hatch holder has a cable inside the spring which limits its extending range.  Clamp one hatch holder
bracket  in  the  jaws  of  a  vise.    Grasp  the  other  bracket  and  pull  against  spring  pressure.    If  the  spring
expands more than 1 in. (2.5 cm) the cable is broken or disconnected.  Replace the hatch holder.
(3)
Check mounting holes for oversize and check brackets for cracks.
(4)
Check hatch holder stiffener is securely attached to compartment box.  Report loose hatch holder stiffeners
to Direct Support Level for lock bolt replacement.
(5)
Check insert fasteners in compartment door are not loose or stripped.  Report damage to Direct Support
Level for insert fastener replacement
4-192