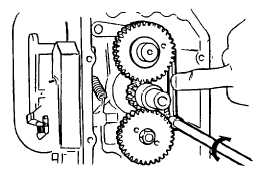 TM 5-4210-220-12
4-15.  AUXILIARY POWER UNIT - Continued
4-15.14 Engine Adjustment
This task covers
Adjustment
TOOLS
Tool Kit, Master Mechanic,
NSN 5180-00-699-5273
EQUIPMENT CONDITION
APU Shutdown (see para. 2-12)
Engine Removed from Base
MATERIALS/PARTS
500.4601.020 Crankcase Cover Gasket (0.20 mm)
500.4601.002 Crankcase Cover Gasket (0.30 mm)
NOTE
Engine turning is usually carried out after repair of the engine.  In this case the crank cover will
be removed from engine (instruction 1-3 below).
ADJUSTMENT
.
(1)
Drain oil from engine by removing oil pan
plug.
(2)
Remove any burrs from crank, drive end.
(3)
Remove crankcase cover screws.  Lift off
cover and gasket.
(4)
Loosen  screw  on  control  lever  and  push
control  lever  to  maximum  fuel  position.
Ensure    throttle    lever    is    at    maximum
position.  Tighten screw on control lever.
(5)
Replace   crankcase   cover,   if   necessary
checking camshaft end play (See para. 4-
15.12 INSTALLATION steps 14 thru 18).
(6)
The engine can only be properly adjusted
if  mounted  on  a  dynamometer.    If  this  is
not  possible,  mount  engine  to  bench  with
temporary  fuel  and  power  supply  (For  a
better     test,     mount     engine     on     base,
connect     water     pump     and     alternator.
Connect water to pump and alternator to a
set of discharged batteries).
(7)
Start  engine  and  run  it  at  low  idle  for  15
minutes
or
until
it
reaches
normal
operating temperature
4-190