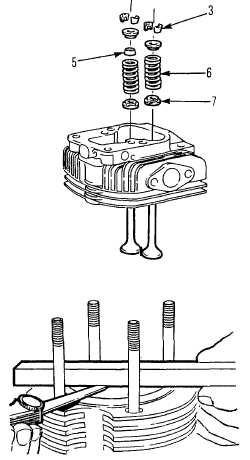 TM 5-4210-220-12
4-15.  AUXILIARY POWER UNIT - Continued
4-15.8  Engine Intake and Exhaust Valves - Continued
(9)
Inspect valve guides.  If guides are excessively
worn  (see  table),  are  grooved  or  have  carbon
deposits,  replace  valve  guide.    (See  REPAIR
following).
(10)
Inspect valve seats if badly scored or they have
an irregular wear pattern resurface seat.  If seat
diameter    is    greater    than    1.06    in.    (27    mm)
(intake) 0.91 in. (23 mm) (exhaust) replace seat.
See REPAIR following.
(11)
Lap    valves    and    seats    with    valve    grinding
compound (item 31, Appendix E) even if neither
is replaced.
(12)
Inspect    valve    springs.        Replace    if    broken,
cracked  or  chipped.    Check  free  length  equals
1.65  in.  (42  mm)..  With  load  of  51  lb  (23  kg)
spring    length    must    be    1.26    in.    (32    mm).
Replace
if
spring
will
not
meet
these
specifications.
INSTALLATION
(1)
Install valves in cylinder head.
(2)
Install  valve  spring  retainers  (7)  valve  springs
(6)  valve  seal  (5,  intake  only),  upper  retainer
over valve shafts.
(3)
Compress each spring in turn and install spring
retainer (3) over valve shaft.
(4)
Install  injector  into  cylinder  head,  see  para.  4-
15.7 INSTALLATION.
(5)
Replace  push  rod  cover  upper  and  lower  seals
on cover.  Install cover in engine block.
(6)
Rotate    flywheel    until    piston    is    at    top    dead
center.    Measure  piston  crown  face  to  cylinder
edge clearance.
(7)
Crown face of piston must be between 0.008 in.
(0.20 mm) higher and 0.006 in. (0.15 mm) lower
than cylinder edge.
(8)
Adjust    clearance    by    selecting    one    of    the
following cylinder head gaskets.
4-164