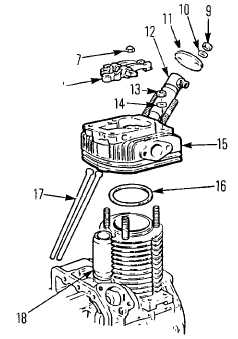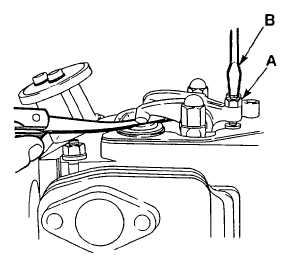 TM 5-4210-220-12
4-15.  AUXILIARY POWER UNIT - Continued
SIZE
PART NO.
0.020 in. (0.50 mm)
520.4730.030
0.024 in. (0.60 mm)
520.4730.031
0.028 in. (0.70 mm)
520.4730.032
0.032 in. (0.80 mm)
520.4730.033
(9)
Install new head gasket (16) onto cylinder block.
(10)
Install push rods (11) in. cover, ensuring the tips seat
in the tappets.
(11)
Install  cylinder  head  (15)  over  studs,  ensuring  push
rod cover seal fits into head recess.
(12)
Install rocker arm  assembly (8) over studs.  Exhaust
rocker  has  two  adjusting  screws  and  mounts  on  the
exhaust side of the engine.
(13)
Guide  the  push  rods  into  correct  rocker  arm.      Push
rod next to cylinder is inlet push rod.  (Push rods will
be crossed over in tube if correctly installed).
(14)
When rocker arm and push rods are engaged, install both acorn nuts (7) and jam nuts (13) onto cylinder head
studs.
(15)
Tighten to 29 ft lb (39 Nm), working crosswise.
(16)
Adjust  valve  tappet  clearance  to  0.006  in.  (0.15  mm)  with  piston  at  top  dead  center  of  compression  stroke.
(Flywheel mark 3 alined with shroud mark 2).
(17)
When  adjusted,  tighten  rocker  arm  locking  nuts  (A)
ensuring adjuster screw (B) does not rotate.
(18)
With piston at top dead center of compression stroke,
operate  decompression  lever.    Check  exhaust  valve
lowering    starts    when    lever    has    traveled    halfway
between "ON" and "OFF" positions.
(19)
Adjust by altering set screw at rear of exhaust rocker
arm.    Adjust  until  clearance  between  decompression
spindle and bottom of screw is 0.036 - 0.044 in. (0.9 -
1.1 mm) with lever in the "OFF" position.
(20)
Set compression release and rotate flywheel.   Ensure
decompression lever resets within 1 full rotation of the
engine
(21)
Install valve cover (4) with new gasket (5) on cylinder
head
4-165