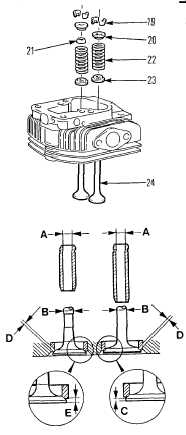 TM 5-4210-220-12
4-15.  AUXILIARY POWER UNIT - Continued
(13)
Compress   each   valve   spring   (22)   in   turn   to
remove valve half cones (19), spring seats (20,
23)  springs  (22),  oil  seal  (21)  (intake  only)  and
valve (24).
INSPECTION
(1)
Remove all scale from cylinder head and valves
using a wire brush and scraper.
(2)
Inspect  each  rocker  arm,  if  badly  warn,  scored
or damaged, replace.
(3)
Inspect   rocker   arm   pivot,   diameter   must   be
(0.370  -  0.378  in.)  (9.4  -  9.6  mm).    Clearance
between  pivot  and  rocker  arms(s)  bore  should
be less than 0.004 in. (0.1 mm).
(4)
Replace rocker arm(s) or pivot as required.
(5)
Check  rocker  arm  lube  holes  are  clear.    Clean
out with stiff wire as required.
(6)
Inspect  push  rods  and  protecting  tube.    Push
rods  should  be  straight  with  end  tips  smooth.
The protecting tube must be undamaged.
(7)
Discard upper and lower push rod cover seals.
(8)
Inspect valves it valve heads are distorted, cracked, mushroomed or seat surface are worn excessively
replace, (see table).  If valves are only slightly worn regrind seat surface to 45 deg. on valve grinder.
B
A-B
C
D
E
in.
In.
In.
In.
In.
(mm)
(mm)
(mm)
(mm)
(mm)
0.275-0.276
0.001-0.003
0.028-0.035
0.055-0.063
0.063-0.071
(6.98-7.00)
(0.03-0.08)
(0.70-0.90)
(1.40-0.60)
(1.60-1.80)
4-163