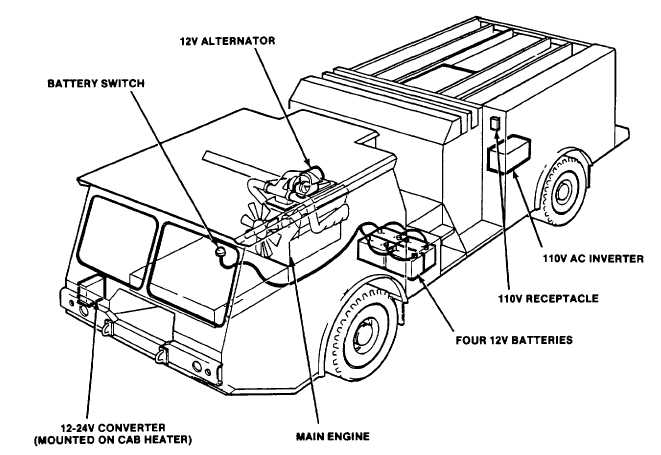 TM 5-4210-220-12
1-9.  LOCATION AND DESCRIPTION OF MAJOR COMPONENTS.  - Continued
g.
Electrical System.
(1)
The fire truck is equipped with a 12-volt dc main electrical system and a 110-volt ac auxiliary system.  All
components and subsystems used to operate and control the truck and firefighting equipment are powered from the 12-
volt system.  The 110-volt ac system is used to operate auxiliary power tools and accessories.
(2)
The 110-volt ac system consists of a 12-Vdc to 110-Vac Inverter connected to the main engine alternator.
Four receptacles are mounted on the left and right sides of the hose body, (see fig. 1-10).  An additional two 110-Vac
receptacles are available on the inverter itself.
(3)
The 12-volt system consists of four maintenance-free batteries located in the battery compartment.  The
batteries  are  connected  to  a  battery  switch  in  the  cab.    To  maintain  the  charge  of  the  batteries,  two  12-volt,  80-amp
alternators,  driven  by  the  main  engine,  are  provided.    All  of  the  major  components  and  circuits  are  protected  by
automatic-reset-type circuit breakers.  To provide 24-Vdc to auxiliary radio equipment the truck is equipped with a 12to
24-Vdc converter.  The converter is connected to the truck batteries via the battery switch.
Figure 1-10.  Electrical System Components
1-11