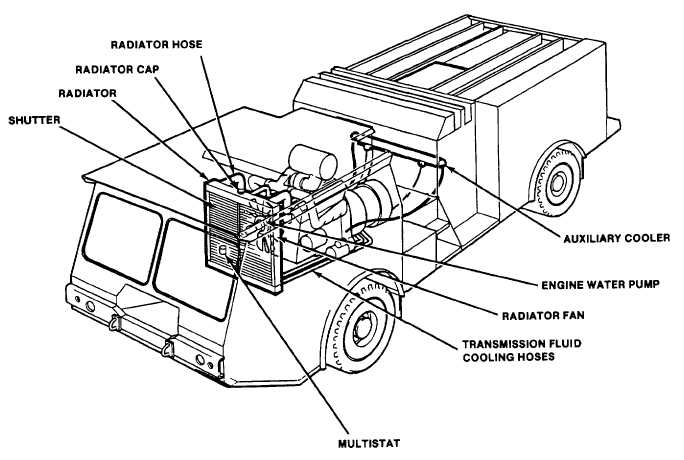 TM 5-4210-220-12
1-9.  LOCATION AND DESCRIPTION OF MAJOR COMPONENTS.  - Continued
f.
Cooling System.
(1)
The engine cooling system consists of the radiator, engine mounted water pump, temperature controlled
fan, and hoses connecting the engine and radiator, (see fig. 1-9).  Hoses are installed between the transmission and the
oil cooler, built into the radiator, for cooling the transmission fluid.  Additional hoses connect the engine cooling system to
the cab heater unit and to the winterization system.
(2)
To  control  the  amount  of  cooling  air  flowing  through  the  radiator,  a  compressed-air-operated  radiator
shutter and fan are provided.  The shutter and fan operation is automatically controlled by a multistat (temperature probe
and control valve assembly).  The multistat is located in the return coolant line from the radiator to engine.
(3)
A  liquid-to-liquid  type  auxiliary  cooler  is  provided  for  additional  cooling  of  the  engine  when  the  truck  is
stationary  and  operating  in  the  structural  firefighting  mode.    The  auxiliary  cooler  is  located  in  the  pump  body  and
connected with hoses to the engine cooling system.  Water derived from the fire pump discharge is used for cooling the
engine coolant.  The flow of water is controlled with a valve mounted on the structural control panel.
Figure 1-9.  Cooling System Components
1-10