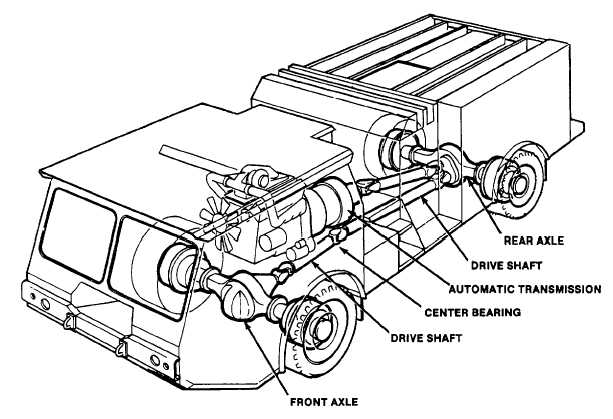 TM 5-4210-220-12
1-9.  LOCATION AND DESCRIPTION OF MAJOR COMPONENTS.  - Continued
h.
Transmission and Drive Train.
(1)
The  truck  is  equipped  with  an  automatic  transmission  that  provides  five-forward  and  one-reverse  gear.  .
The transmission is connected to the engine via a torque converter that functions both as a fluid coupling and a torque
multiplier.    A  torque  converter  lock-up  clutch  provides  direct  drive  between  engine  and  transmission  when  the  vehicle
obtains sufficient speed.  This lock-up automatically disengages when the speed drops to the downshift limit of the gear
range  in  which  the  vehicle  is  traveling.    The  transmission  contains  four  sets  of  planetary  gears  and  six  hydraulically
activated clutch packs.  Engagement of the clutches and gears is controlled by means of the gear selector control in the
cab and an automatic, governor-controlled shift mechanism in the transmission.
(2)
The  drive  train  from  the  transmission  to  the  wheels  consists  of  two  drive  shafts,  and  the  rear  and  front
axles,  (see  fig.  1-11).    The  rear  axle  is  provided  with  a  power  divider  gearing  and  clutch,  controlled  by  the  driver,  for
selection of either 2or 4-wheel drive.
(3)
The drive shaft between the front and rear axle is a two-part unit supported by a center bearing.  The front
and  rear  axles  are  both  equipped  with  single  reduction,  controlled  traction  (differential  lock)  differentials  to  ensure
positive traction on all four wheels.  The controlled traction mechanism is engaged and disengaged from the cab.  The
front axle is provided with ball and socket mounted wheel ends.
(4)
The wheels consist of four single-unit rims mounted with tubeless, bias-ply tires suitable for both on and
off-road use.
Figure 1-11.  Transmission and Drive Train Components
1-12