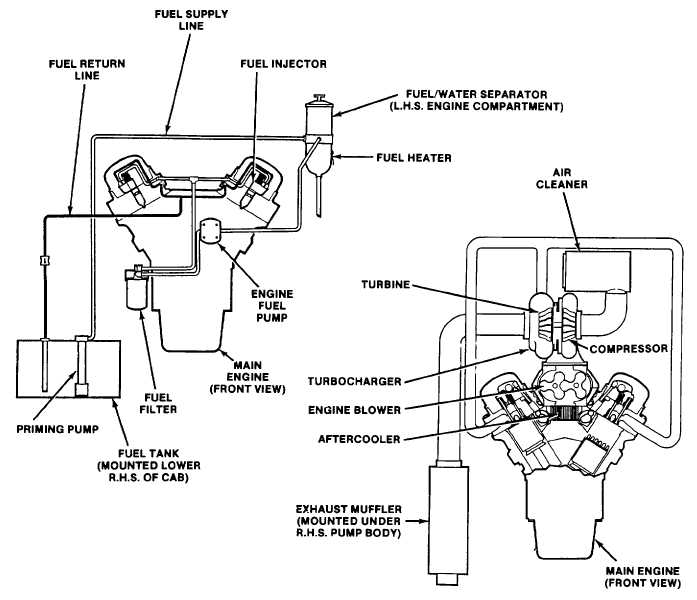 TM 5-4210-220-12
1-9.  LOCATION AND DESCRIPTION OF MAJOR COMPONENTS.  - Continued
e.
Fuel, Air Intake, and Exhaust Systems.
(1)
The  fuel  system  comprises  a  45  gallon  fuel  tank,  12-volt  electric  priming  pump,  fuel/water  separator,
engine  fuel  pump,  fuel  filter,  and  supply  and  return  lines  between  tank  and  engine,  (see  fig.  1-8).    The  fuel/water
separator is equipped with a heater element for cold weather operation.  Both the fuel/water separator and the fuel filter
have replaceable filter elements.
(2)
The  air  intake  system  consists  of  the  air  filter,  turbocharger  compressor,  engine  blower,  and  aftercooler.
The exhaust system consists of exhaust piping, turbocharger turbine, and muffler.  The air cleaner is mounted above the
engine and connected with a flexible elbow to the turbocharger.  The exhaust pipe is flange mounted to the turbocharger.
The muffler is mounted to the frame with rubber bushings and hanger brackets.
Figure 1-8.  Fuel, Air Intake, And Exhaust Systems
1-9