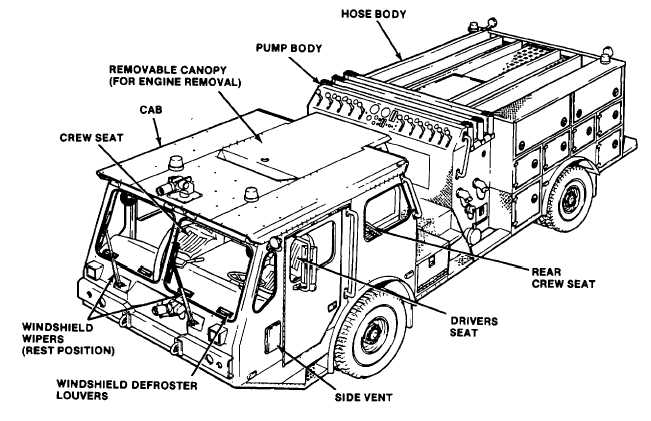 TM 5-4210-220-12
1-9.  LOCATION AND DESCRIPTION OF MAJOR COMPONENTS.  - Continued
b.
Cab and Body.  - Continued
Figure 1-3 Cab and Pump Body Components - Left Side View
(2)
The cab is equipped with side windows of tempered safety plate glass and windshields of laminated glass.
Each windshield is provided with a pantograph-type wiper and washer assembly capable of maintaining 75% of the glass
area  clear.    To  remove  grime,  cleaning  fluid  is  sprayed  into  the  wiper  blade  path  from  washer  nozzles  located  on  the
wiper  arms.    Windshield  washer  fluid  is  contained  in  two  reservoirs  located  inside  the  cab.    The  wiper  motors  are  air
driven with infinite speed control.
(3)
The cab is provided with a fluid-to-air heat exchanger mounted on the right hand side floor of the cab.  Two
fans direct fresh air through the heater and air ducts to the windshield defroster louvers and/or floor outlets.  Fluid to the
heater core is provided from the engine cooling system.  Two fans mounted near the top of the windshield provide air
circulation in the cab.
(4)
Controls  and  indicators  to  operate  the  truck  and  firefighting  systems  are  located  inside  the  cab.    Their
arrangement  prevents  interference  with  driver/crewmember  entrance  or  exit  from  the  cab.    Refer  to  Chapter  2  for
operating details of the controls and indicators.
(5)
The lower left and right rear corners of the cab contain the battery compartment and fuel tank respectively.
The fuel tank compartment is equipped with a blower to cool the tank when firefighting in structural mode.
1-4