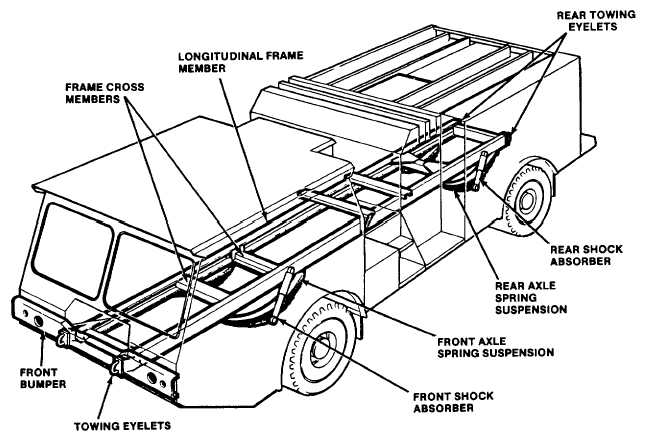 TM 5-4210-220-12
1-9.  LOCATION AND DESCRIPTION OF MAJOR COMPONENTS.
a.
Frame and Suspension.
(1)
The frame consists of two side members and seven cross members bolted together.  The frame serves as
a mounting base for the engine, drive train, fire pump, cab, pump body, and hose body.  The frame is flexible to prevent
heavy stress on components during travel in rough terrain.
(2)
The front bumper is mounted directly to the side frames together with two eyelets for towing purposes, (see
fig. 1-2).  Rear towing eyelets are also attached to the frame.  The suspension leaf springs are attached to the frame with
shackles  and  spring  pins.    The  axles  and  springs  are  assembled  with  two  U-bolts  at  each  location.    Spring  action  is
dampened with heavy duty shock absorbers.
Figure 1-2 Frame and Suspension Components
b.
Cab and Body.
(1)
The cab and body consists of three separate assemblies each attached to the frame by means of vibration
absorbing rubber mounts.  The cab, pump body, and hose body (see fig. 1-3) are fabricated of aluminum and insulated
against  heat  and  cold.    The  cab  is  divided  by  a  fire  wall  making  the  front  compartment  fully  enclosed.    The  front
compartment accommodates the driver and one  crewmember.  The rear semi-enclosed compartment contains two rear
facing crew seats.  All crew seats are equipped with seat belts.
1-3