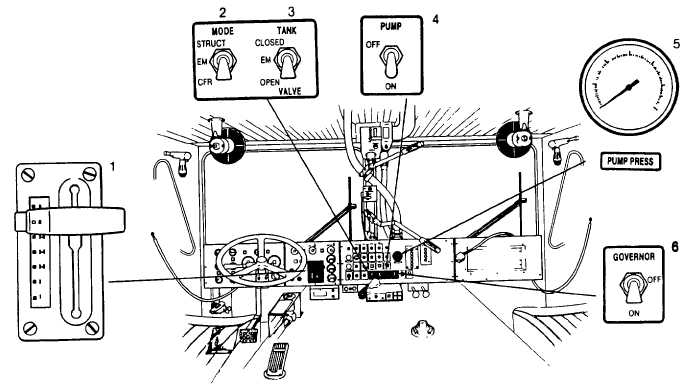 TM-5-4210-220-12
2-11.  FIREFIGHTING OPERATIONS.
a.
CFR Mode.
NOTE
CFR  operation  may  be  carried  out  with  the  truck  stationary  or  in  pump-and-roll  mode.    Pump-
and-roll mode may be selected while the truck is in motion.
(1)
Select the transmission shift lever (1) to N (neutral) for stationary operation, or R, 1, 2, or 2-3 for pump-
and-roll operation.
CAUTION
To avoid water hammer, adjust the vehicle speed so that the engine is operating at or below 1200
rpm before you engage the pump.
(2)
Set the mode switch (2) to CFR.
(3)
Set the water tank valve switch (3) to OPEN.
(4)
Set the pump switch (4) to ON.
(5)
Be sure that pressure is registered on the pump pressure gage (5) before you engage the governor.
(6)
Set the governor switch (6) to ON.
NOTE
The CFR, TANK, PUMP and GOVERNOR must be selected in the above order to ensure a smooth
start-up of the firefighting system.
2-49