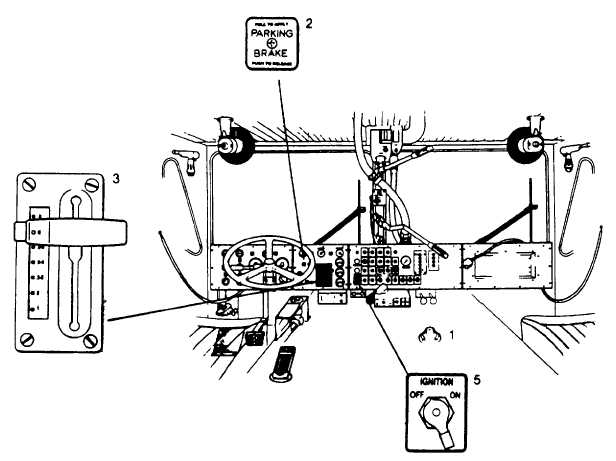 TM  5-4210-220-12
2-10 OPERATING THE VEHICLE - Continued
c.
Shutting Down the Engine
(1)
After stopping the truck, engage the parking brakes by pulling the parking brake knob (2) OUT.
(2)
Place the transmission shift lever (3) into N (neutral) position.
CAUTION
The  turbocharger  can  be  damaged  unless  the  engine  is  idled  for  at  least  2  minutes.    The
turbocharger  normally  operates  at  40  to  60,000  rpm  and  is  lubricated  by  the  engine  oil  pump.
Therefore,  to  prevent  lack  of  lubrication,  reduction  in  speed  is  necessary  before  the  engine  is
stopped.
(3)
Idle the engine at least 2 minutes, then turn the ignition switch (5) to OFF.
(4)
Switch OFF all lights and accessory controls.
(5)
Set battery switch (1) to OFF.
2-48