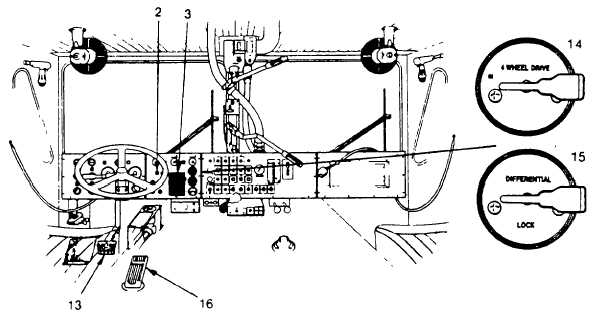 TM 5-4210-220-12
2-10.  OPERATING THE VEHICLE - Continued
b.
Driving the Vehicle
WARNING
The  service  brakes  are  ineffective  and  driving  hazardous  when  the  air  system  alarm  lamps  are
Indicating.  Commence safe driving ONLY when the alarm lamp indication ceases.
(1)
Adjust the drivers seat and rearview mirrors, and switch ON lights, beacons, siren and other accessories as
required Fasten your seat belt.
(2)
Depress the brake pedal (13) to engage the service brakes.
(3)
Release the parking brakes by pushing the parking brake button (2) IN.
(4)
Be sure that the 4-wheel drive (14) and differential locks (15) are selected to OUT before you drive.
(5)
Select desired gear or gear range using transmission shift lever (3).
(6)
Release the brake pedal (13) and depress the accelerator pedal (16).
CAUTION
Come to a complete stop before engaging 4-wheel drive mode to prevent damage to the vehicle.
(7)
Select 4-wheel drive (14) to IN when you need to negotiate rough terrain.  Remember you MUST come to
a complete stop before this mode is selected to prevent damage to the power divider
(8)
Select differential lock (15) IN to maintain traction on all wheels when in 4-wheel drive mode Be sure you
come to a complete stop when you select the switch to prevent damage to the differential.
Change 7   2-47