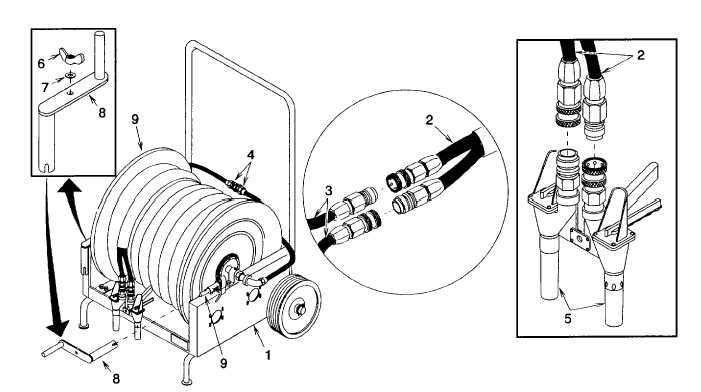 TM 10-4210-235-13
Figure 2-19.  Return Auxiliary Hose Reel Cart to Ready Condition
(9)
If auxiliary mobile hose reel cart (1) (fig.  2-19) was used, disconnect the hose assembly (2) from the hose
assemblies (3) Connect the hose assembly coupling halves (4) to each other.
(10)
Connect the fire hose nozzles (5) to the hose assembly (2).
NOTE
Steps  (11)  through  (14)  apply  to  both  auxiliary  mobile  hose  reel  cart  and  trailer  mounted
extinguisher assembly.
(11)
Remove wing nut (6) and flat washer (7).  Remove crank (8) from storage position and place on rewind
brake shaft (9)
(12)
Using crank (8), wind hose assembly (2) onto drum (10).
(13)
Secure fire hose nozzle (1) (fig 2-20) to nozzle bracket (2) with lock pin (3).
NOTE
If auxiliary mobile hose reel cart crank was used, prior to placing it back in storage position,
use it to crank trailer mounted extinguisher assembly hose assembly onto drum.
2-45