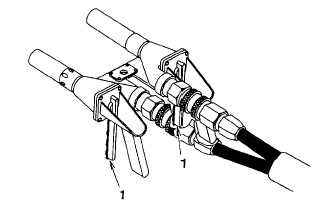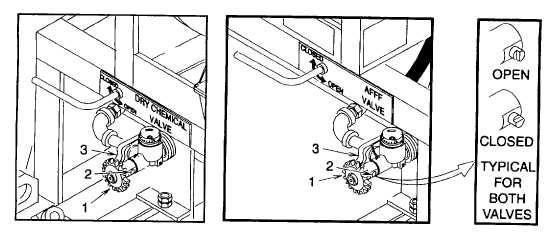 TM 10-4210-235-13
2-10.  OPERATING PROCEDURES.  - continued
Figure 2-17.  Fire Hose Nozzles
NOTE
Foam  liquid  must  be  disposed  of  in  compliance  with  local,  state,  and  federal  regulations.
Rinse any spill thoroughly with water as the foam liquid is slippery.  The foam liquid poses no
direct  hazard,  however  it  should  be  disposed  of  in  limited  quantities  at  a  time  to  avoid
nuisance foaming in sewer or waterway
(5)
Slowly squeeze fire hose nozzle valve levers (1) (fig.  2-17) one at a time until each hose is cleared.  The
fire hose nozzle should discharge gas only for 10 seconds.
Figure 2-18.  Reset Cylinder Valves to Operational Ready Condition
(7)
Turn each nitrogen cylinder valve hand wheel (1) (fig.  2-18) fully counterclockwise (open).  Lower quick-
release lever (2).  Rotate cross shaft (3) until flat is horizontal.  Turn hand wheel fully clockwise (closed).
(8)
Squeeze both fire hose nozzle valve levers (1) (fig.  2-17) to relieve system pressure
2-44