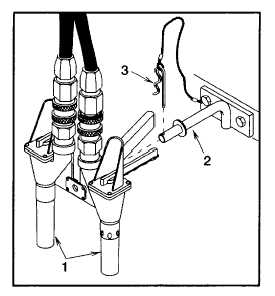 TM 10-4210-235-13
2-10.  OPERATING PROCEDURES.  - continued
Figure 2-20.  Return Fire Hose Nozzle to Operational Ready Condition
(14)
Secure crank (8) (fig.  2-19) to auxiliary mobile hose reel cart or trailer mounted extinguisher assembly with
wing nut (6) and flat washer (7).
(15)
Notify unit maintenance for unit recharge.
(16)
Refill dry chemical tank.
WARNING
Cap must not be removed until tank pressure has been relieved.  Severe injury can result if
cap is removed while tank is pressurized.
CAUTION
When refilling dry chemical tank be sure NO water is introduced into the tank.  Ensure that the
dry   chemical   funnel   and   gage   rod   are   completely   dry   prior   to   using   them   with   the   dry
chemical Moisture will cause the chemical to cake causing the system to fail.
(a)
Remove the cap (1) (fig.  2-21) from the dry chemical tank (2) Stir the dry chemical to break up any
lumps and loosen if it has packed.
(b)
Check the dry chemical for hard lumps that would prevent the system from operating.  If lumps are
found, remove one and drop it from a height of four inches (10 centimeters) onto a hard surface.  If the lump completely
breaks apart, the dry chemical is only packed from settling and is in satisfactory condition.  If the lump does not break
apart completely, caking is present and the dry chemical must be replaced.
2-46