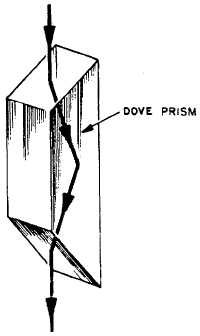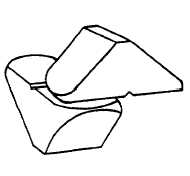 TM 9-254
9-2.
Optical Components - Continued
(2)
Dove
Prism
.  The Dove prism, as shown in figure 9-11, is used as a rotating prism in conventional types
of optical systems of panoramic telescopes.  When the prism  is  rotated  about  its  longitudinal  axis  the
image rotates in the same direction at double the angular speed.
Figure 9-11.  Dove Rotating Prism
(3)
Porro
Prism
.  A Porro prism is one of two identical prisms in a Porro prism system, as shown in figure 9-
12.  A Porro prism system, commonly used in binoculars is also used in erecting systems of other fire
control instruments.  The line-of-sight through a Porro prism system is displaced and bent 360 decrees.
but it is not deviated.
Figure 9-12.  Porro Prism Erecting System
Change 2  9-8