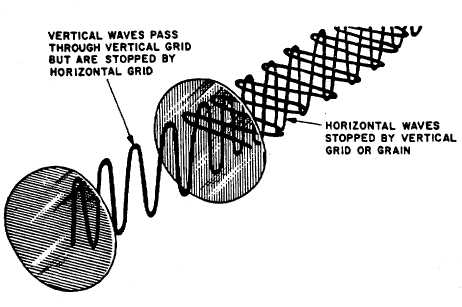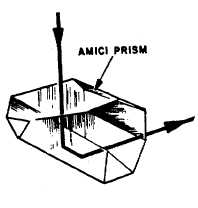 TM 9-254
Figure 9-9.  Principles of Light Polarization
e.
Prisms
.  Optical prisms are blocks of glass, of many shapes, with two or more highly polished non-parallel flat
surfaces that reflect or refract light, and which are especially designed and ground to perform various functions.  They are
used  separately  or  in  pairs  to  change  the  direction  of  light  from  a  few  seconds  of  arc  (measuring  wedge)  or  up  to  360
degrees (Porro prism system).
(1)
The  Amici  or  roof  angle  prism,  as  shown  in  figure  9-10  consists  of  a  roof  edge  formed  upon  the  long
reflecting face of a right angle prism.  It is used in elbow and panoramic telescopes to erect the image
and bend the line-of- sight through a 90 degree angle.
Figure 9-10.  Amici Prism
Change 2  9-7