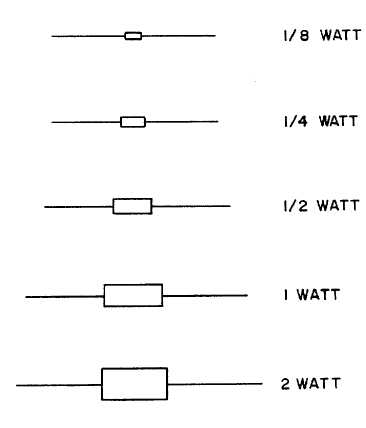 TM 9-254
7-4.
Resistor Identification - Continued
d.
Resistor
Voltage/Wattage
Rating
.        Another    important    factor    in    resistor    selection/identification    is    the
voltage/wattage rating of the resistor.  This rating is an indication of the maximum amount of power the resistor is capable
of handling.  The following paragraphs explain several methods used.
(1)
On  variable  resistors  and  some  fixed  resistors  the  voltage  and  or  wattage  rating  will  be  indicated  by
numbers and letters printed on the resistor.
(2)
In  the  case  of  color  coded  carbon  composition  resistors,  the  wattage  is  normally  indicated  by  the  size
(length and diameter) of the resistor.  The smaller the size of a resistor, the less power or voltage it can
handle.    Typical  wattage  sizes  are  1/8,  1/4,  1/2,  1,  and  2  watts.    Figure  7-10  can  be  used  as  a  quick
reference  in  determining  the  wattage  of  this  type  resistor.    Larger  wattage  resistors  are  typically  wire-
wound and they will have their wattage printed on their side.
Figure 7-10.  Typical Carbon Resistor Wattage Reference Chart
7-5.
Capacitor Identification.
As is the case with resistors there are many types and sizes of capacitors and many ways of marking them.  Figure 7-11
shows many of the different types of capacitors and marking systems which may be encountered.  One type of capacitor
not shown in figure 7-11 is the electrolytic capacitor.  This type capacitor comes in many shapes and sizes.  DC electrolytic
capacitors  have  their  positive  terminal  marked  and  care  must  be  taken  to  insert  them  into  the  circuit  properly.    The
capacitance and voltage rating of this type capacitor is typically printed on the side of the capacitor.
7-10