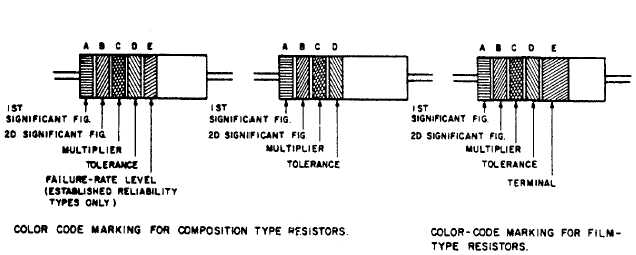 TM 9-254
Section II. ELECTRONIC COMPONENT IDENTIFICATION
7-4.
Resistor Identification.
a.
General
.  There are two basic types of resistors, fixed and variable.  Both types may use either wire-wound or
carbon composition as the resistive element.  A fixed resistor has only one set value.  A variable resistor is usually called a
potentiometer, it's resistance can be changed to vary the amount of current in a circuit.
b.
Resistance
Markings
.    Variable  resistors  usually  have  their  resistance  range  marked  on  their  case.    Wire-
wound fixed resistors usually have the value of resistance stamped on their side.  Some resistors are identified by three or
four digit letter and number designators.  The letter (R) is used in place of a decimal point when fractional  values  of  an
ohm are needed (for example 2R7 = 2.7 ohms.)
c.
Resistor
Color
Codes
.  A color code has been developed for identification of fixed value composition and film
resistors.  Refer to figure 7-9 for the color codes and an explanation of the various bands.
Figure 7-9.  Color Code Markings for Military Standard Resistors
7-9