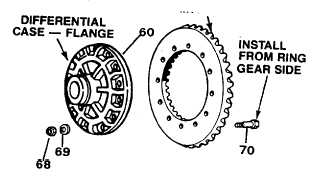 TM 5-4210-233-14&P-1
5-43.  FORWARD TANDEM AXLE AND DRIVE UNIT-Continued
Example
Outer Diameter of Washer = 3.00 Inches (76.20 mm).
Spring Scale Reading = 9 lbs (4 kg)
Inch
MM
Outer Diameter of Washer
3.00
76.20
Divide  Outer  Diameter  by  Two  (2)
To Get The Radius Of The Washer
1.50
38.10
Multiply Radius Of Washer By
Spring Scale Reading
13.5 lb in
152.4 kg mm
(c)   The preload of drive pinion bearings must be within the following limits of rotational torque.
New pinion bearings - 5 to 45 lb in (0.56 to 5.08 N m).
Used pinion bearings- 10 to 30 lb in (1.13 to 339 N m).
(d)   If preload is not within the above limits remove the nut (71) and washer (72) and remove the
outer bearing cone (76) and spacer (74).  Install a thicker spacer (74) to decrease the preload
and a thinner spacer to increase the preload.
(e)   Assemble  the  drive  pinion  and  bearings  as  described  above  and  install  nut  (71)  and  washer
(72).    Install  pinion  cover  (22)  and  secure  with  five  washers  (21)  and  screws  (20).    Tighten
screws to a torque of 45 to 55 lb ft (60 to 75 N m).
(22)
Heat a tank of water to 160 to 180°F (71 to 82°C).  Place ring gear (17) in tank for ten to fifteen
minutes.  Use a lifting toot to safety lift ring gear from tank of water.
(23)
Immediately install ring gear on differential case flange (60).  Rotate ring gear (19) to align hoses.
instant twelve screws (70), washers CAS (69) and nuts (68).  Tighten nuts to a torque of 190 to 225
lb ft (260 to 350 N m).
(24)
Lubricate the following with axle lubricant.
(a)   Inner walls of differential case.
(b)   Side gears.
(c)   Spider (64), pinions (66) and thrust washers (67).
(d)   Bearing cups and cones.
5-305